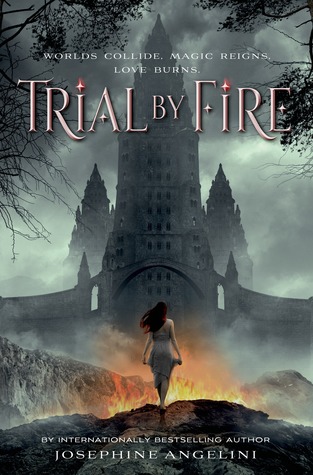 Trial By Fire
(The Worldwalker Trilogy, #1)
by
Josephine Angelini
Released |September 2nd 2014 by Feiwel & Friends |
Edition |Earc|
Source |Netgalley|
Add To Goodreads
This world is trying to kill Lily Proctor. Her life-threatening allergies keep her from enjoying experiences that others in her hometown of Salem take for granted, which is why she is determined to enjoy her first high school party with her best friend and longtime crush, Tristan. But after a humiliating incident in front of half her graduating class, Lily wishes she could just disappear.
Suddenly, Lily is in a different Salem—one overrun with horrifying creatures and ruled by powerful women called Crucibles. Strongest and cruelest of them all is Lillian . . . Lily's other self in this alternate universe.
What makes Lily weak at home is what makes her extraordinary in New Salem. In this confusing world, Lily is torn between responsibilities she can't hope to shoulder alone and a love she never expected.
This book was a pleasant surprise and i'm so happy that I had the chance to read it. I enjoyed the story so much and couldn't put the story down. I love books with witches, but don't find too many that I think are amazing. They're usually average, but this book was not! I loved the whole alternate universe aspect of the story because I've not read too many books, if any, that involve it. I flew through this book and was nose deep into the story from start to finish. I'd definitely recommend giving the story a try!
Lily, the main character has horrible allergies that stop her from doing and enjoying things that most kids her age do. After a terrible night with her long time friend Tristan, she winds up humiliated and hurt and just wants to escape. Insert evil witch, Lily's alternative self, that comes along and offers a way out. Lily finds herself in an alternative world, a different Salem than the one she lived in. And in this world, her allergies become one of her strengths. The alternative universe that Lily goes into is kind of sort of historical times. I don't know which since I don't read historical books, but the world had that 'old' feel to it. lol I'm at a loss for what word to use, so bare with me.
I liked Lily. She's one of those characters that you could easily sympathize with. She was strong and stubborn, but she was also kind. You know, one of those people who wants to help everyone. I really liked that about her. In this new world, Lily finds out that Lillian (her alternative self) is evil and Lily has to find a way to stop her, but she must stay hidden because there are people out to get her and use her for what she knows and can do. Along the way, we meet Rowen. I loved Rowen and the relationship that developed between the two. In the beginning, he was a bit hot and cold because of his history with the other Lillian, but soon he and Lily developed a relationship that I came to love.
Romance, check! I absolutely loved it. The book had tons of action as well which gave it an equal balance. I also I thought the world building was pretty good as well. It made you feel as if you were really in that time period. I can't wait to check out the sequel to this one! I thought this was a fantastic start to a new trilogy considering I read the author's other trilogy and liked it.