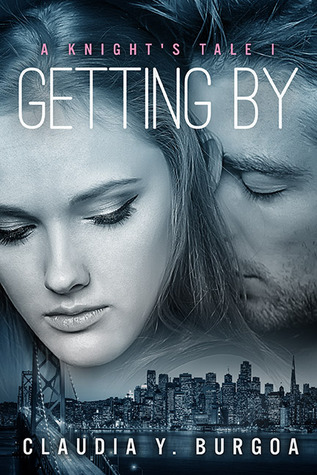 Getting By
(A Knight's Tale, #1)
by
Claudia Y. Burgoa
Released |February 18th 2014 by Literally Alpaca Illustrations, LLC|
Edition |Ebook|
Source |Author|
Add to Goodreads
When Emma Anderson arrived at San Francisco International Airport, she regretted accepting the distinction of being the maid of honor to Gaby's—her childhood friend—wedding. It had been years since the last time she set foot in Menlo Park, where her parents had been killed. The rug where she had been shoving her feelings since that day looked bumpier than a camel's hump. Who could blame her; if she hadn't been selfish they'd still be around. Ever since that fateful day, Emma has been perfecting the knack of Getting By.
Cade's wedding in Menlo Park—a city close to San Francisco—might be the perfect place for Jake Knight to shake the memories of his ex, Emma Anderson for good. Single, available women galore for an entire week was the perfect medication, one he intended to take three times a day for an entire week to return to his player days. It was a plan the former spy thought flawless until he came face to face with the maid of honor. Jake's perfect retreat turns into a flight, fight or hide week of celebrations.
Getting By is a book that involves two characters that each have a painful past. Emma and Jake each have personal issues that they've been struggling with and that means that they both have a lot of emotional baggage and they're also carrying a lot of guilt. You really feel bad for both of the characters because you see the love that they have for each other, but the things that they're holding on to is what's holding them back.

I really liked this book. I'm a sucker for damaged characters and I don't know why. Emma and Jake had a two year romance that was suppose to be no strings attached, but suddenly Emma breaks it off and the two don't see each other again until they both happen to be attending the same wedding. It took me awhile to warm up to Emma at first because of her personality. She's very closed off and doesn't like to let people in because of all the hurt that she's felt. And then there's Jake and he's very confused as to why Emma called off the relationship so suddenly with no warning. They both love each other and I definitely could understand both of their viewpoints. The things about their relationship to me is their lack of communication as a couple. They didn't share anything with each other about their pasts and that's the thing that kept them from committing, but slowly we found out what they were both holding on to and feeling so guilty and helpless about. It was really sad to see the two struggle so much and throughout the entire book I was hoping for the best.
I liked the romance in the book and thought it was very cute and sweet. Not a lot of people would understand Emma and her personality and I really felt like Jake was her perfect match. He understood her and could handle her. Neither of them were perfect, but they were awesome together. Sometimes I did feel the pacing slowed up a bit, but overall I thought the book was pretty good and I enjoyed it. I'd recommend this book to people who like stories with characters that deal with painful issues or have baggage.
About the Author:
Claudia lives in Colorado with her family and three dogs. While managing life, she works as a CFO at a small IT Company. She's a dreamer who enjoys music, laughter and a good story. Claudia writes romance, sci-fi, and fantasy. She has published two novels: Where Life Takes You and Getting By. Claudia is currently working on Standing By, the second book in the Knight series. For 2014, Claudia plans to released three, perhaps four novels.
Website: http://www.claudiayburgoa.com/
Goodreads: https://www.goodreads.com/author/show/7202946.Claudia_Y_Burgoa
Facebook: https://www.facebook.com/ClaudiaYBurgoa
Twitter: https://twitter.com/yuribeans