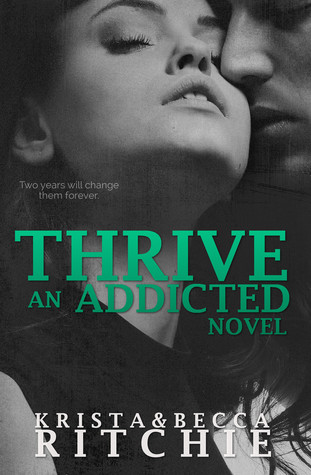 Thrive
(Addicted, #2.5)
by
Krista and Becca Ritchie
Released |July 18th 2014 by K.B. Ritchie|
Edition |Ebook|
Add to Goodreads
Two years will change them forever.
When rumors spread like wildfire—like having three-ways with her boyfriend's rock climbing brother—Lily Calloway spirals into a dark place. Her bedroom. Loren Hale is more confident and determined to keep their sex life private, even from their friends, and he helps Lily in the only way he knows how. But how much love is too much?
Their lives are filmed, watched, and criticized. And through it all, Lily and Loren have to face enemies they never thought they'd see, demons they don't know if they should bury, and setbacks they didn't think they'd meet. Not this soon.
And one rumor could be too much for them to handle. It will test their greatest limitations, and if they don't hold onto each other, someone is going to drown.
A full-length New Adult Romance that bridges the gap between the second and third books. Thrive must be read before Addicted After All if you have not read the Calloway Sisters spin-off series
Thrive, Thrive, Thrive was awesome! At first I was a little thrown off by it. If you've read the spin off books (which I seriously recommend doing if you've started the series) then you're back tracking two years (Kiss the Sky and Hothouse Flowers)and starting up again from there. Once I got into it though, it flowed even though it back tracks. You're now getting things and situations from Lily and Lo's POVs and you're not reading the same scenes over again. You do get a couple of repeat scenes, but trust me, they're just as amazing as before. I don't know if all that made sense, but let me just say read this book if you've not read the spin off series and read this if you HAVE read the spin off series as well. It's definitely a must.
Lily is just adorable. I have to say it. And I'm proud to say that she did not drive me insane in this book. She's gotten better and you can definitely see the growth in character. It may be slow, but it's growing. So many awesome moments happened in this book. I mean, Harry Potter references and Nerf guns? I was in heaven and I was cracking up! Lo has definitely grown as well, but both he and Lily still have a lot of growing to do. I liked seeing some of the scenes from Kiss the Sky and Hothouse Flowers from a different view point. It was interesting reading it one way and then seeing it another way from a different persons pov. I must admit that neither Lily or Lo are my favorite characters in this series, but I do love their characters and enjoy being in their heads. I love every single character in this book besides Lily's mom. I even love Johnathon and Greg :)
Just being with all the characters again was amazing. Seeing the sisterly bond between Lily, Rose, and Daisy warms me because it's amazing to see them grow closer. And one thing I liked about this book was that we got to see more of Poppy (the oldest sister). We rarely ever see her in the other books and that was kind of explained in this one. And of course, there's the bromance between Lo, Ryke and Conner. A series with three swoon worthy gentle-ish men.
Overall, I thought this was a great book and I really found myself enjoying it. I flew through it (like all the other books) and I didn't want to put it down. I can't wait to read the next book to see how things finally turn out for Lily and Lo. Of course I'm hoping for the best :)